Jimmy Neutron Back to the Past is a live-action film based on the series of Jimmy Neutron starring Kevin Mchale as Jimmy neutron.
20 years later Jimmy Neutron who is a college professor, and married to an adult Cindy vortex, is bored with his life as a scientist. One day while sitting at home he was thinking that when he was a kid, he had invented just about everything, but one of his greatest inventions was time travel. Jimmy then goes back to his parents home, and revisits his old lab. Jimmy decided that with the new technology of his labroratory and the old technology of his old lab he would recreate a time machine and travel back in time to when he was in high school back when things were much more simpler. When He went back into the past, he turned back into when he was 15 years old. Now as a 15 year old, he deeply altered the past and now he must change it back before it is too late.
| | | |
| --- | --- | --- |
| Kevin Mchale | | Jimmy Neutron |
| Tuckler Alibrizzi | | Carl Wheezer (age 15) |
| Roshon Fegan | | Sheen Estevez (age 16) |
| Chloe Moretz | | Cindy Vortex (age 15) |
| Coco Jones | | Libby Folfax (age 15) |
| Katey Segal | | Judy Neutron |
| Hugh Laurie | | Hugh Neutron |
| Avan Jogia | | Nick Dean (age 15) |
| Chloe Bridges | | Betty Quinlan (age 16) |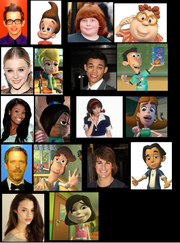 Ad blocker interference detected!
Wikia is a free-to-use site that makes money from advertising. We have a modified experience for viewers using ad blockers

Wikia is not accessible if you've made further modifications. Remove the custom ad blocker rule(s) and the page will load as expected.