A fanon wiki based on the Jimmy Neutron television show that anyone can edit.
73 articles available since June 2011

---
About this wiki
•
Categories
•
Image Gallery
•
Site Policies
•
Help
•
Contact Admin
---
|}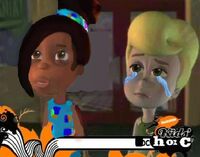 Neutronic Prom is the unreleased Valentine's Day special for The Adventures of Jimmy Neutron: Boy Genius. It was written by Rickster1, and is the user's only fanon creation on the wiki so far.
Who would you want to appear on a TV series of their own?
in the fanon world of Jimmy Neutron...
...Jimmy was once convinced by Sheen to dance at a prom, which lead to him taking dance lessons?
...Jimmy once left his cloning machine on and created a new clone named Klone?
...a world of real-life Ultra Lord characters was once created by Jimmy?
<mianpage-endcolumn/>
Ad blocker interference detected!
Wikia is a free-to-use site that makes money from advertising. We have a modified experience for viewers using ad blockers

Wikia is not accessible if you've made further modifications. Remove the custom ad blocker rule(s) and the page will load as expected.